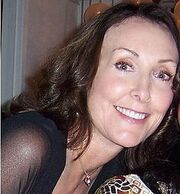 Tress MacNellie is the voice actress of
Callie Briggs
in the show, who also voiced Dot on Animaniacs.
She was also known for voicing Agnes Skinner from The Simpsons, Chip 'N Dale from House Of Mouse, and Daisy Duck.
Ad blocker interference detected!
Wikia is a free-to-use site that makes money from advertising. We have a modified experience for viewers using ad blockers

Wikia is not accessible if you've made further modifications. Remove the custom ad blocker rule(s) and the page will load as expected.