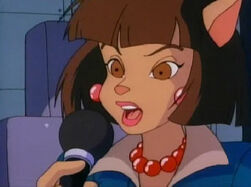 Ann Gora is the reporter for Kat's Eye News, similar to April O'Neil from Teenage Mutant Ninja Turtles, Chun-Li Xiang from Street Fighter: The Movie and Vicki Vale from Batman vs. Dracula. She was usually on the scene whenever the SWAT Kats were in action, and had been rescued by the SWAT Kats twice in "The Ci-Kat-A" and "Caverns of Horror." Besides Deputy Mayor Briggs, Ann had also warned the SWAT Kats a few times of dangerous situations. Her name was a pun on the cat breed angora, or Turkish Angora. Voiced by Candi Milo in the original English version and by Megumi Ogata in the Japanese dub.
External Links
Edit
Ad blocker interference detected!
Wikia is a free-to-use site that makes money from advertising. We have a modified experience for viewers using ad blockers

Wikia is not accessible if you've made further modifications. Remove the custom ad blocker rule(s) and the page will load as expected.